The Significance of St. John the Apostle
St. John the Apostle was the son of Zebedee and the brother of St. James. He was a fisherman who worked alongside St. Andrew on the Sea of Galilee. One day whilst preparing their nets, Jesus passed by. He called them – John and his brother immediately left everything and followed him.
So now the question must be asked…Are we as the community of St John the Apostle Primary School able sacrifice everything and respond to the call of Jesus?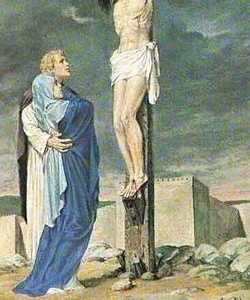 St John was the youngest of the apostles, he travelled everywhere with Jesus during his ministry. He is referred to in the Gospels often as Jesus' Beloved Disciple. His closeness to Jesus is shown many ways.
During the passion of Christ, St John was the only apostle not to forsake the saviour. In fact, he was present at the foot of the cross where he is made by Jesus the guardian of Mary, taking her into his home.
As our school develops, will we as a community be willing to stand by the vulnerable during their time of need?
St John's youth and great love of Jesus is also displayed in his spontaneous reaction to hearing of Jesus' resurrection.  He immediately runs to the tomb, being younger and faster than St Peter, he is the first apostle to arrive to see it open. 
We pray that our school community too experiences the overwhelming joy of the risen Christ in the everyday experiences of school life.
St. John is also one of the great evangelists, writing the fourth gospel, three epistles and possibly the Book of Revelations. He was a scholar, theologian and writer who saw the immense empowerment education can give to those who experience it. We hope that our students here at St. John the Apostle Catholic Primary School will be are empowered by an education which is relevant, personalised and rigorous.
The faith community of St. John the Apostle Catholic Primary School can take great meaning from the life of St. John. His care for the grieving Mary, his commitment to never abandon those he loved, his youthful passion and scholarly skills are great attributes our students and community can aspire to.